1997: Established Bylaws & Established Affiliation Agreement with the School of Public Health, University of North Carolina at Chapel Hill
1998: Held kickoff event at SAS, released first Prevention Report Card & presented first Prevention Awards, Inaugural Board of Directors elected & Membership Drive held
1998-2016: Published NC Prevention Report Cards to raise leadership awareness and action
Report Cards were released to the media and the public, provided to all members of the NC General Assembly, federally elected officials, and leaders of all health related associations, foundations, hospitals and health departments. They included specific evidence based recommendations that would move NC to an A. Between 2000 and 2010, NC moved from an F in Tobacco to a B, reflecting the collective progress on evidence based tobacco prevention and cessation efforts across NC.
1999-2006: Led NC Preventive Benefits Initiative , leading to highest voluntary coverage in nation for tobacco and medical nutrition therapy among NC fully insured private and public health insurance plans.
Preventive Health Insurance Benefits
North Carolina is Closing the Gap on Preventive Insurance Coverage, NC Medical Journal, 2010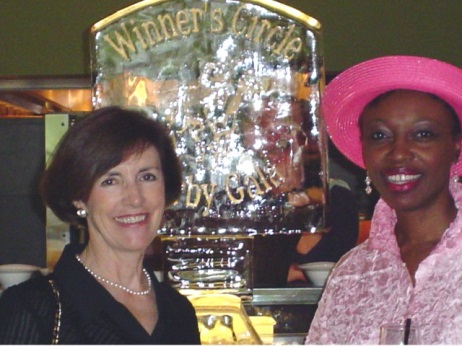 Libby Puckett and Tynetta Brown, Heart Disease and Stroke Prevention Branch, NC Division of Public Health at Winner's Circle Healthy Dining Kentucky Derby Gala
1999-2006: Led Winner's Circle Healthy Dining Program to identify healthy foods in restaurants and schools History of Prevention Partners Winner's Circle FAQ. Partnered with the NC Division of Public Health and NC Restaurant Association. Public health and university partners provided nutritional analysis and technical support to restaurants and schools to identify and promote consumer purchasing of healthy foods.
1998-2007: Authored NC Strategic Public Health Prevention Plans for NC Division of Public Health (heart disease and stroke, cancer, diabetes, tobacco cessation)
2004: Held Independence campaign, moved into independent quarters at Vilcom Campus, Chapel Hill, North Carolina
2004-2005: As part of Go Chapel Hill!, a partnership between the Town of Chapel Hill and Active Living by Design, Prevention Partners created the brand for the initiative, and conducted a walkability assessment in Northside neighborhood.
2003-2007: Led Quit Now NC!, authored RFA for Quitline NC in partnership with the Tobacco Prevention and Control Branch, NC Division of Public Health, supported cessation systems in community health centers, and led Quit for Life study for NC State Health Plan that led to the establishment of tobacco cessation benefits for state employees.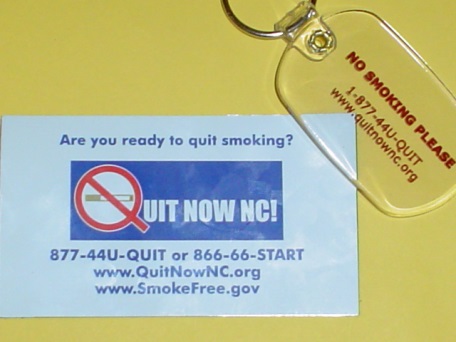 2002: Was one of three founding partners of the NC Alliance for Health to advocate for preventive public policy in NC: www.ncallianceforhealth.org
2005-2008: Advanced integration of tobacco use, nutrition and physical activity brief counseling and referral into clinical prevention, partnered with UNC faculty, by creating Starting the Conversation Tools and offering Prevention Rx Training to clinics, hospitals and health care providers.
Citation: Paxton, Amy E, Strycker, Lisa, Toobert, Deborah, Ammerman, Alice, Glasgow, Russell. (2011). Starting the Conversation: Performance of a brief dietary assessment and intervention tool for health professionals, American Journal of Preventive Medicine, 40 (1), 67-71.
Inspired leadership interest and action for prevention by convening Annual Meetings & Awards, Health Plan Roundtables, Employer Roundtables, and participating in Legislative Heart Health Days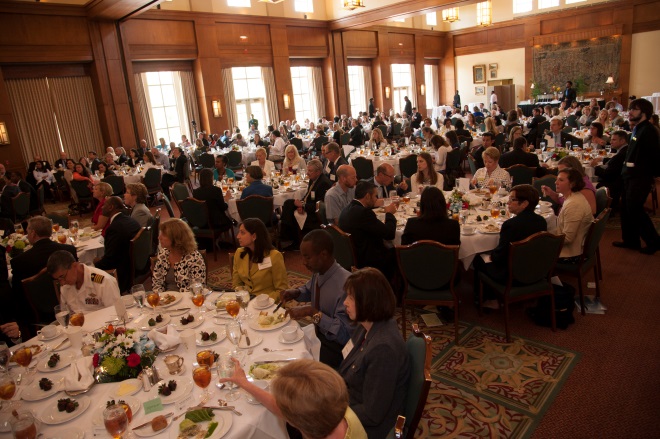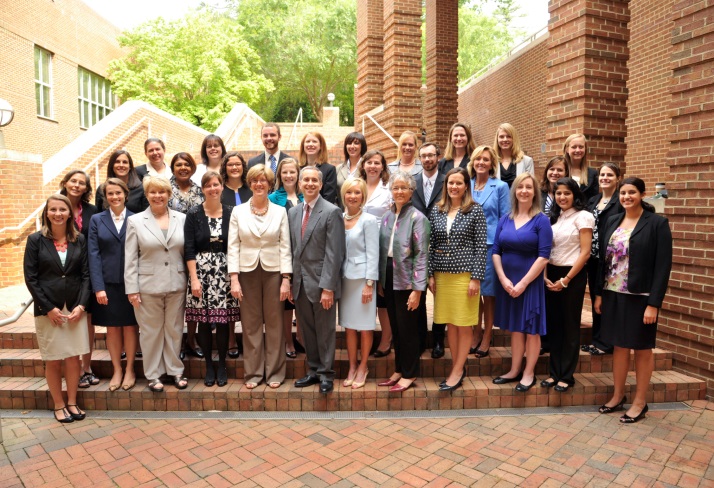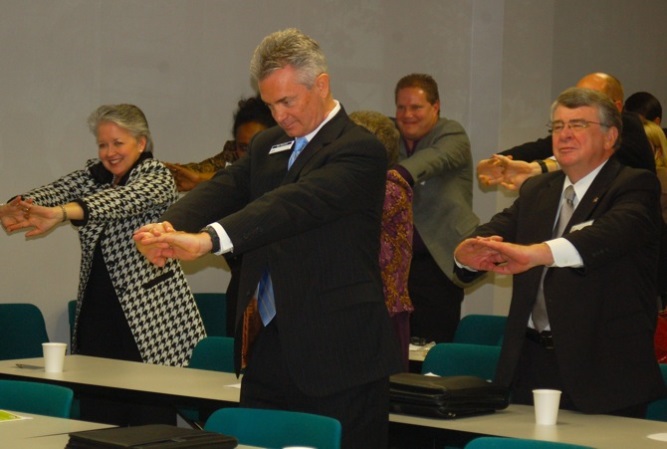 2011: Established Jim Long Policy Fellowship to support the work of a Jim Long Policy Fellow in honor of founding board member Commissioner Jim Long.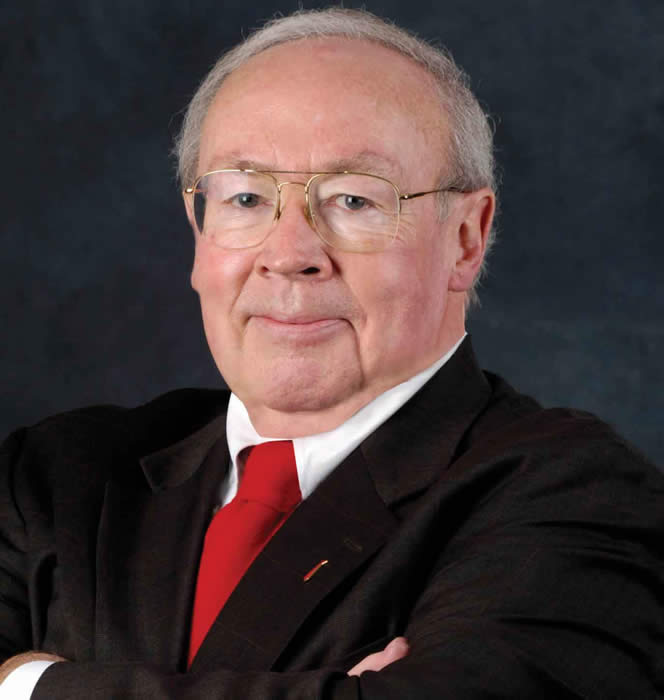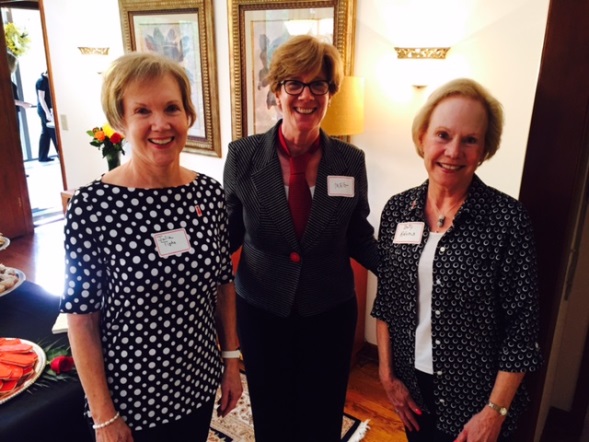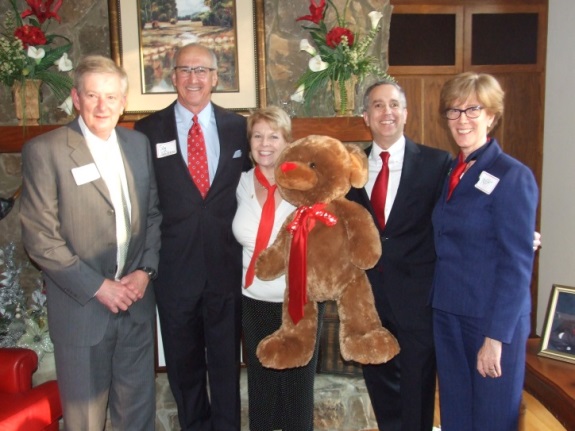 In our second decade, Prevention Partners focused on building healthy places by advancing healthy organizational policy change, recognizing that healthy places create access and are a driver of healthy behaviors. This model was implemented voluntarily across hundreds of schools, hospitals, and workplaces and was reflected in our tagline, Building Healthy Places where we work, learn, receive care and lead.
2000-2014: Supported Healthy School environments for over a decade, Zone Health and LearnHealthy America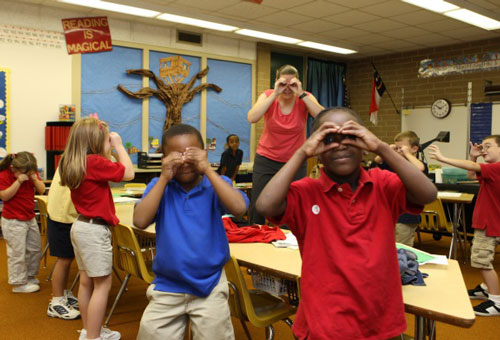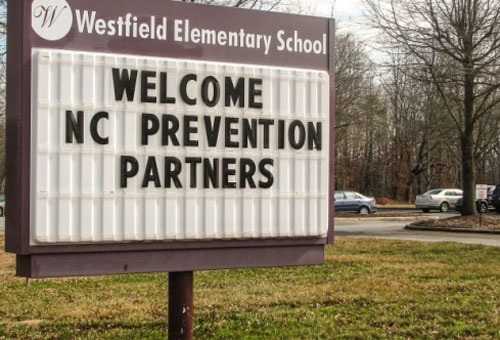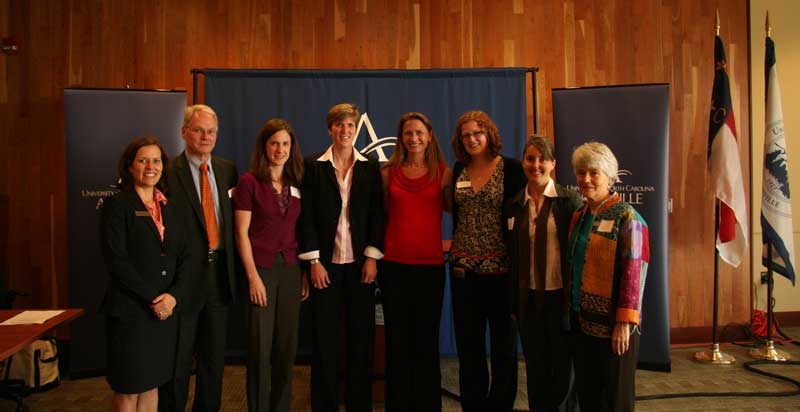 Julie Knaack and Ingrid Morris and Healthy School Partners at Zone Health Training, Asheville NC
2006-2014: Healthy NC Hospitals Initiative - First in nation - guided all NC hospitals to establish tobacco free campus, offer Healthy Food, Active Environments, and a culture of wellness.
US DHHS Secretary Kathleen Sebelius presenting Health Living Innovation Award to Prevention Partners Healthy Food Environment team leader Annie Thornhill, 2011 in recognition of the healthy food environment component of the Healthy NC Hospital Initiative.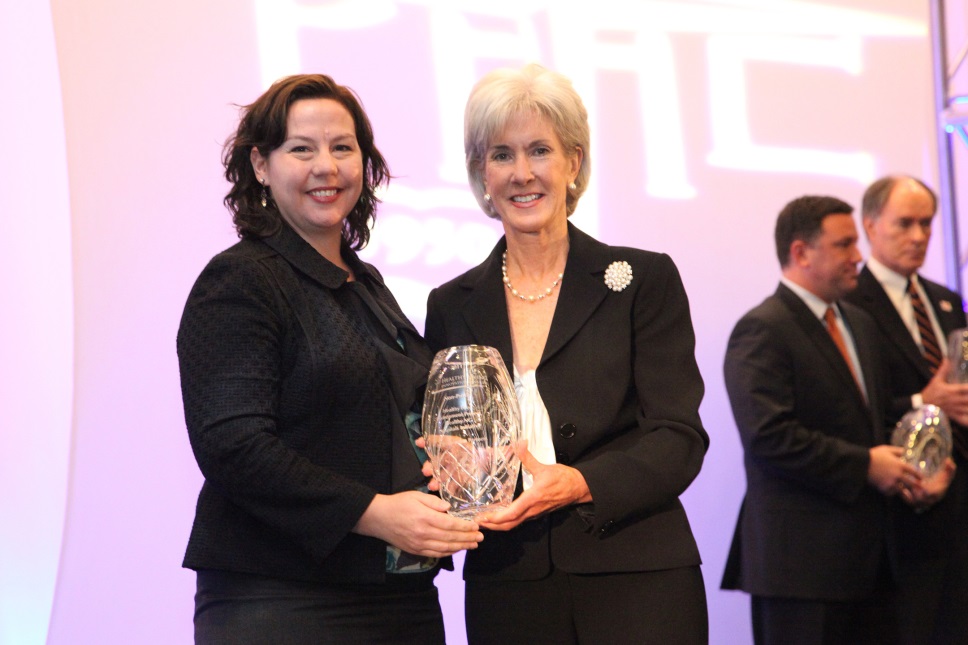 2010: Launched Prevention Academies across NC for healthy change across 9 NC communities. Facilitated community partnerships among hospitals, health departments, and employers to spread healthy places across the community.
2011- 2017: Scaled Healthy Organizational Change across US and globe reaching 33 states and 42 global sites. As other state hospital leadership organizations requested support to guide their healthy hospital and early healthy community work, we developed web applications to scale our work rapidly and efficiently across communities, states and regions.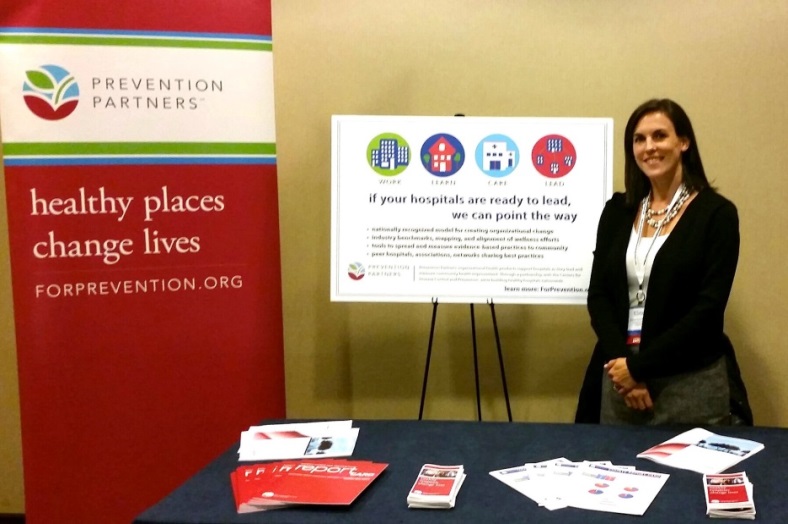 Elina Urli Hodges advances national and global strategic partnerships
Prevention Partners Data and Products
WorkHealthy America
Simple Steps
WorkHealthy Global
LearnHealthy America (district, school modules)
School Health Hub
Patient Quit Tobacco System (Inpatient, Outpatient modules)
LeadHealthy America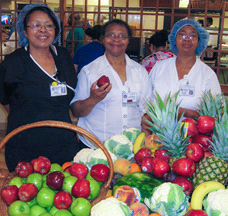 We were proud to partner with and to support forward-thinking partners who wished to lead healthy change processes in their communities. We guided hospital association partners in South Carolina, Oklahoma, Virginia, and the Children's Hospital Association to bring clear standards and a tested healthy hospital campaign process to their members. The Centers for Disease Control recognized our healthy hospital leadership model and partnered with us to lead a national healthy hospital effort. We supported the New York City Department of Health and Mental Hygiene as they worked to support hospitals to establish tobacco-free campuses and employee and patient quit tobacco systems. Our work spread to support military hospitals within the Department of Defense. Mars, Inc., reached out to us to develop a custom tool to support healthy work environments in their US and global manufacturing sites.
2012-2017: Established Research Council to advance prevention with unique data & partnerships. As our partners grew, our database grew, reflecting prevention practices across the country. As our partners advanced their prevention environments, we were interested in hearing the interests of our partners and working with academic leaders to describe drivers and needs, and to bring on the ground experience to advance the next generation of prevention knowledge. Publications and Technical Reports are summarized in the Prevention Resource Center and Data Vault.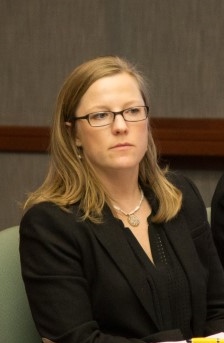 Whitney Davis, Chief Mission Officer, at Research Council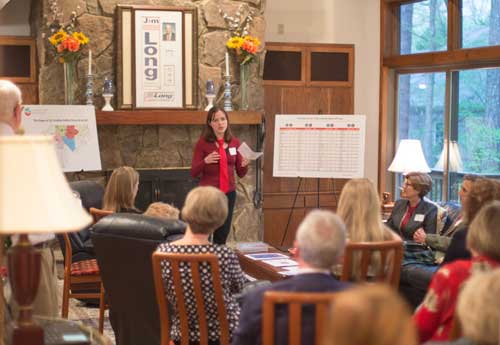 Rachel Zucker shares NC Power of 10 Report Card at Jim Long Event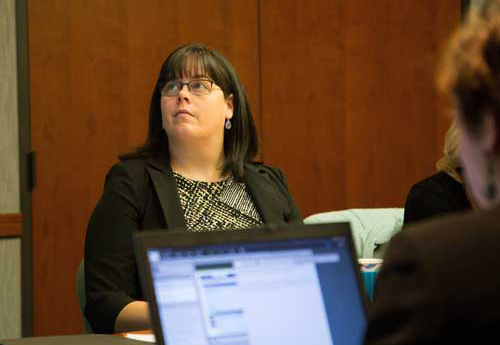 Amy Meador, Director of Research and Evaluation, shares latest data with research partners
2013: Established Be Active Legacy Fund. As our partner Be Active NC closed, we were honored that their board established a Fund to expand Prevention Partners physical activity focus.
Be Active Legacy Report 2015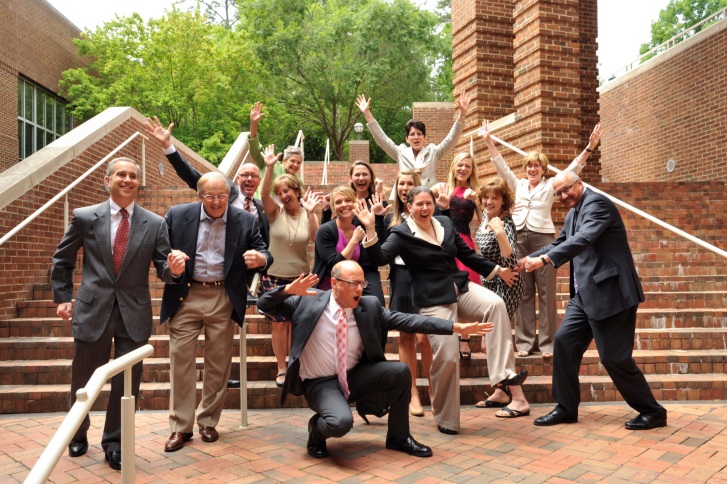 2014-2017: Established Healthy Together NC to spread the Power of 10, to reach 25% of workforce by creating healthy places in 10 large workplaces, in all 100 NC counties. Based on our experience that reaching the ten largest employers in rural communities reached at least 25% of the workforce with healthy places, we partnered with the NC Department of Commerce, NC Hospital Association, NC Association of Local Health Directors, NC County Commissioners, NC Community Foundation, NC State Health Plan, and Population Health Improvement Partners to raise awareness and to drive community action to bring the Power of 10 Healthy Places across NC.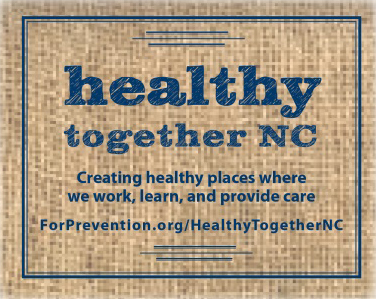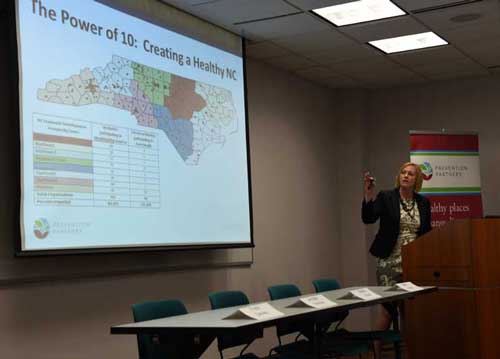 Heather Mountz, Senior Manager, Healthy Together NC, shares Power of 10 progress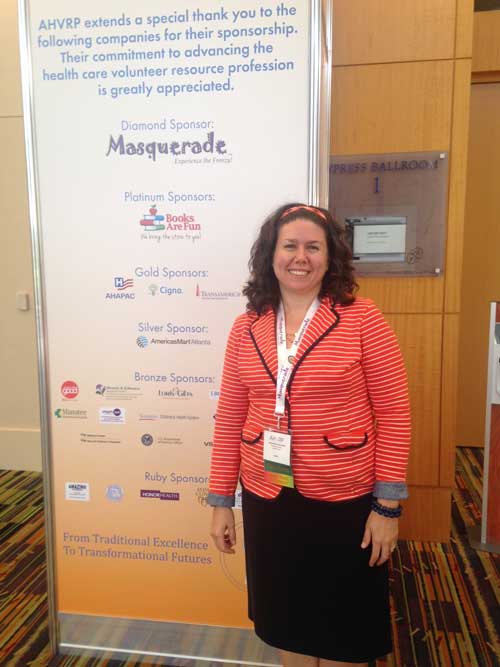 Lindsey Bickers Bock, Director of Strategic Coaching, supports leaders and organizations in healthy change
Adapting our leadership spread model to rural communities, and with the recognition that healthy people are an economic development pillar, we reached 15% of the workforce across NC, and in some regions, reached nearly 50% of the workforce. Many community leaders have interest in this concept. We encourage leaders in government, business and healthcare to continue to bring healthy places to work, learn and receive care to their local communities.
Commerce Secretary Sharon Decker:
Why Health is an Economic Development Issue
2017- 2018: Stewarded mission with strategic placement of intellectual property and assets. The Prevention practices, policies and environments and culture of wellness that we cultivated will continue through many organizations, communities, and benefiting generations to come with better health.
We are very pleased that our mission and suite of prevention web tools will continue to be used by a national health insurer and the Health Behavior Department of the Gillings School of Public Health at the University of North Carolina at Chapel Hill to build healthy places and change lives. For more information, please contact: Health Behavior Department
We are very pleased to transfer our Endowment Fund held within the NC Community Foundation to the North Carolina Alliance for Health to support prevention advocacy efforts in North Carolina. We encourage you to get involved with the NC Alliance for Health, for more information: NC Alliance for Health
You brought an awareness to NC of what healthy really means, and brought it to many different venues and areas of health. From many ripples, you created a tsunami.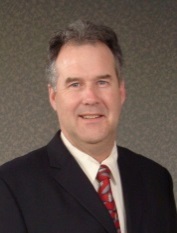 Ken J. Lewis
President, NC Association of Health Plans
Former CEO, FirstCarolinaCare
Prevention Partners Board of Directors, 2007-2010